Dealership Toolkit Portal
The Dealership Toolkit Portal is a SAAS-based product built for dealerships and franchises alike in order to empower them in learning more about their potential and converted customers in order to increase their sales conversions.
Within the Automobile and Mobile Sports industry, gaining, consolidating, and retaining customers is a dominating challenge. Hence, there was a need for identifying who the customers, potential and current, were for dealerships. Additionally, dealerships were unable to identify the reasons for converting potential customers into spending customers. Lastly, dealerships faced a number of challenges in maintaining appointments that were set up with potential clients and customers in terms of record keeping, maintenance, and ultimately execution.
There was a need to come up with a solution that could cater to all these challenges in an efficient and productive manner while focusing on customers who visited the physical locations of franchises, as well as through their digital footprint formed by visiting the company websites. Additionally, there was a need to assist these dealerships in their day-to-day running and functions. A solution was needed that focused on bringing about insights into meaningful conversion of potential clients guaranteeing a significant return on investment.
The Dealership Toolkit Portal was a SAAS-based project which required full-fledged development to create a web application from scratch. The intended purpose was to create a data-driven analytics-based solution aimed at increasing sales.
The project was divided into the following modules:
The Ghost Shoppers Module was materialized using Smartpixel and the M1 Data and Analytics integration. Smartpixel collects customized data and information from customers who visit a dealership virtually, through the website but do not end up making a purchase. Based on this information, the collected set of data is passed on to the sales team who then modify their approach to target these potential customers into converted leads.
The M1 data and analytics was integrated to bring in and log data into the system; it essentially collects the location data of the potential customers who ended up visiting dealership franchises but did not make any purchases. The call center then contacts these potential customers with a set of questions, prepared with the information and data collected, in order to bring about improvements to the dealership's services.
The Shopping Insight Technology (SIT) Module's purpose is to collect and display the data and information of potential (unsold) visitors at any franchise of the dealership. It does this by recording the feedback of the visitor and generating analytics based on that feedback in order to offer insights into the visitors associated with the franchise and in doing so maintains a visitor history within the system.
For the Appointments Module, appointments were created for each particular client. Reminders were sent out for appointments set for the day and were consequently tracked as a result as well. The module allows the dealership to reschedule or cancel appointments and has the option of adding notes to track the progress of the client's acquisition phase. The benefit of this was that the particular franchise or dealership could effectively prepare itself to interact and converse with the customer. For example, for a customer inquiring about a vehicle of interest, the franchise or dealership can prepare information about the vehicle beforehand such as the price, availability, and date of expected arrival, or even refer the customer to another dealership for a referral.
The Reporting Module was utilized for carrying out conversions. Essentially it measures how many leads were created by the Dealership Toolkit Portal, how many consequent appointments were made, and the resulting return on investment of the particular franchise or dealership.
Hours Worked: 2,500 – 3,000 Hours | Frequency Of Updates: Weekly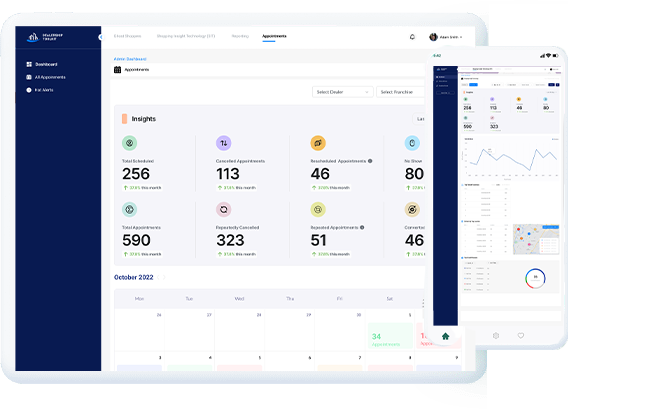 After applying a holistic approach to create a highly complex web-based application, the Dealership Toolkit Portal was able to serve dealerships in a number of ways.
The Dealership Toolkit Portal served as a data-driven analytics-based software for the dealerships in order to enhance their sales. The dealerships were able to track potential customers from both their physical and online (digital) modes of visitation to their franchises and utilize information collected, including geographical data and essential preferences, in order to customize a sales and outreach approach to convert these potential customers into sales.
Dealerships were enabled to effectively create, manage and execute appointments with visitors and potential customers. This SAAS-based product also allowed the dealerships to make notes in order to track the progress of their appointments with visitors and customers alike. Lastly, the Dealership Toolkit Portal also allowed dealerships a means to track their progress which includes the total number of leads created, consequent appointments made, and the resulting return on investment for these dealerships and their franchises.