The MyLotSpy solution served as a platform that aimed to empower the user to drive up their sales by gathering and centralizing information from dealerships across the world by obtaining a true view of the digital activity across sales, prices, vendors, and competitors for RVs.
The List of Set Trigger Module is meant to give the user a notification, via email. when a particular product (recreational vehicle in this instance) is listed according to the specifications mentioned, for example, price range, product name, manufacturer, make, and/or model.
Through the Inventory Management Module, users can add their own products to the system and then make subsequent comparisons with inventories from other dealerships on the basis of prices. These modules essentially empower the user to make better purchasing decisions based on a variety of information that is gathered from different recreational vehicle dealerships from across the world in order to improve their sales and leads.
The MyLotSpy solution was a web-based application that was created from scratch with a medium-level complexity associated with its development. It demanded a full-fledged development from Datics and was intended for use by dealerships as the primary users.
The Dealership Analysis Module uses Web Scraping or crawling, to collect information from the websites of all recreational vehicle dealerships in the United States. It then processes the data and consolidates it to centralize that information on the MyLotSpy portal. It aims to collect information from each dealer individually, such as their total number of sales, the product name, and the type, so that a comparison can be made between top dealerships.
The MyLotSpy solution consisted of the following modules:
The Sales Trend Module essentially collects the total number of sales that a particular dealership has made and compares it to another dealership's sales number. This can help deduce on a worldwide scale where the majority chunk of sales is coming from for particular dealerships. This can help make an informed decision on what type of recreational vehicles should be purchased for sale to increase a particular dealership's profit margin.
Hours Worked: 560 Hours | Frequency Of Updates: Daily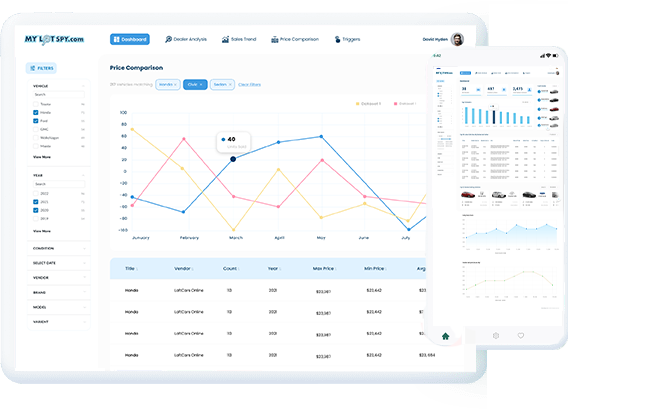 The MyLotSpy solution served to empower users to help drive up their sales and leads by access to information on products (recreational vehicles) from dealerships all across the world. It serves as a platform that provides different prices at which manufacturers are selling recreational vehicles. It also provides information consisting of data from over four hundred websites that mention the model, price, date of creation, retail price, and the sale price of these products.
As a result of the MyLotSpy solution, users can now make dealership analysis, where they can access the sales trends and price comparisons with their competitors through web scraping, take full advantage of an inventory comparison with their competitors and ultimately make better decisions in terms of which products to sell in order to increase their overall sales.